Termite inspection, treatment, and control services in San Francisco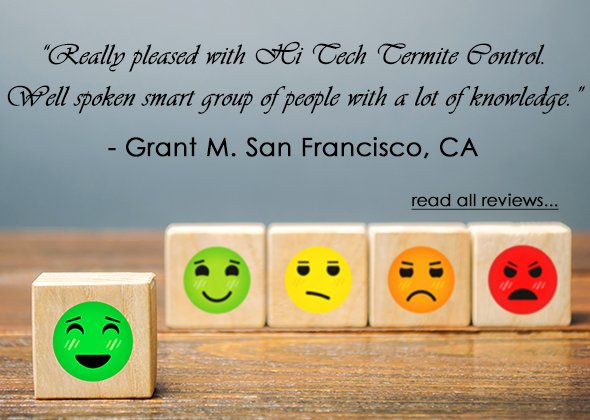 Read our Blog:
11 Interesting Facts about Termites You May Not Know
Termite problems are the biggest threat to property anywhere in the world. These small insects can cause unfathomable damage to woodwork. This means all windows, doors, and door jams in your home, not to speak of trees and plants in your garden.
To solve this problem, you need to call a professional termite control service company. At HiTech Termite, we offer a wide range of services. We understand that common tenting may not always be effective. So we offer other specialized methods for eradicating termites such as borate foam injection, microwave, and non-repellant Termidor methods. In addition, all woodwork is coated with Tim-Bor for prevention against further infestation.
Why choose us if you live in San Francisco? First, we will conduct a limited inspection of your property and give you a free quote. Then our professionals will take over and ensure the complete removal of termites from your premises. We are a reputable company and guarantee your satisfaction. Our specialty is quick, effective termite control.
Tips for Hiring a Reputable Exterminator the First Time Around
With more and more stories about bed bugs and termites making the news, more homeowners are looking to hire reputable termite companies in San Francisco than ever before. These urgent requests have also created an increase in companies available for consumers to choose from, and with that increase in companies comes a few bad businesses. Therefore, homeowners who need to hire an exterminator in San Francisco should take advantage of a few first-time buyer tips to ensure that the company they hire will get the job done and do so within budget.
Common Complaints
According to the Better Business Bureau, there are constant complaints regarding exterminator services. The most common complaints were that inaccurate pricing was provided, the infestation was not treated, the company stole items while in the home, and the treatments used were dangerous to pets and humans.
Trust
The best advice for homeowners looking to hire a termite control company is to look for companies registered with the state and Better Business Bureau. Consumers are urged to also look at the company's rating on these sites, any complaints made, and the resolutions that came from those complaints.
Price Quote Comparison
Consumers have the right to compare prices between service providers and are urged to do through companies like the Better Business Bureau. Consumers should gather multiple quotes from exterminators and compare the final cost and the services and guarantees provided with those costs if the consumer were to hire the company.
Reading the Fine Print Carefully
Consumers are unhappy with their termite control companies because they did not read the fine print in their service contract. Service contracts are created for a reason: to provide the customer with detailed information about what services they will receive for the price they are paying to the company. Therefore, the consumer should read the fine print in their service contract and pay particular attention to areas where the company talks about follow-up, warranties, and additional discounts or promises.
Licensing and Insurance
A homeowner should never hire a termite company if it is not licensed and insured. Consumers are urged to ask the company for a copy of their license and the information about the insurance carrier. A company that offers reputable and reliable services will have a license with the state and be insured with either state insurance or a private company.
Paying Upfront
Some non-reputable companies will require a customer to pay upfront before receiving services. This type of business practice can be questionable, especially if consumers do not receive the services they paid for upfront. Therefore, customers are urged to avoid termite companies who require upfront payment before providing actual services, even if that upfront payment is considered a "deposit" on future services.
Contact us for expert advice on termite control.