Termite inspection, treatment, and control services in Pleasanton
Termites: Professionals know the right way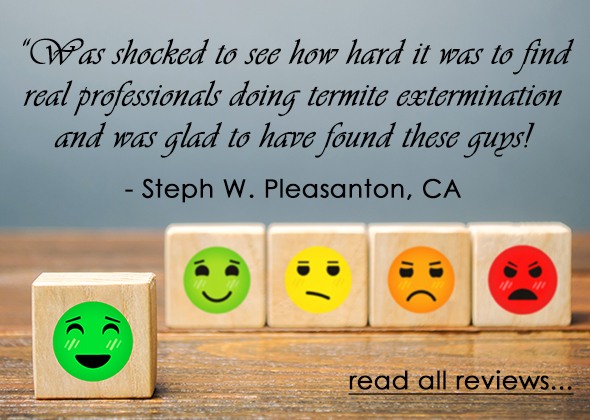 Read our Blog:
5 Easy Ways to Prevent Termites in Home
Termites cause a lot of damage, and the problem essentially lies with a lack of knowledge. If a person would, as laws require one to, get a property duly inspected before they purchase from professionals, half their headache shall be gone forever. With the help of a thorough inspection, right from the foundations and the roof to all the rooms, including the beams and a very close inspection of the woodwork, the issue of termites may be solved or instead stopped from cropping up any time soon in the future.
Termite infestation is a killer disease for your home. It can cause unknown damage, and when you realize the problem, it might be too late to save your valuable property. It's always advisable to get your home checked and evaluated for termite attacks at periodic intervals.
Did you know around a billion U.S. dollars worth of damage is caused by termites than fires, storms, and floods combined. Termites aren't carpenter ants who would just chew wood to get it out of their way. Any termite company knows the damage caused by termites. Left unstained, termites can stimulate enormous damage to exposed woody structures, resulting in costly repair costs.
Termites attack one in four homes. All the chemicals and the poisons available freely in the market today are the results of research. What good they do without the help of a professional termite company is questionable. HiTech Termite is proudly serving. Our licensed technicians will readily audit your home or business and deliver cutting-edge treatments to discard termites you have today and prevent future infestations. The most effective solution for termite control does not just barricade termites' progress. Our professional technician goes right to the origin of the problem, offers everlasting termite control, and blocks the threat completely, demolishing the colony systematically.
It is not sufficient to merely repair damage and kill termites. You need an everlasting termite bait system for real protection that will cater to complete colony evacuation - 24 by 7. At HiTech Termite control, we are dedicated to catering eminent services that protect your home and business against damage induced by termites.
Your Local Termite Control Experts
Locally owned, HiTech Termite offers the latest in technology when protecting your family from termites. We are committed to rendering long-term solutions for all of your termite problems.
We are a leading termite company offering extermination services. Our team of qualified and experienced termite controllers is equipped with the latest termite control technology to protect your home or business. We are concerned about your health and environment; hence, we use products approved for use by government standards.
HiTech Termite will ensure that your home is termite-free. Using advanced microwave technology along with non-repellant Termidor, both subterranean and dry-wood termites are removed. This technology ensures that your home stays free of termites. Whether you have trouble with termites or need prevention, our expert technicians are available to prescribe the most effective termite treatment. Our well-known re-treatment backs our process.
What you can expect from us:
24-hour response time
Immediate help
Guaranteed termite control solutions
Environment-friendly solutions
Detailed, customized service
Effective treatments
Free no-obligation estimates
Fully bonded and insured
No long-term termite control contracts
All services guaranteed
An odorless, less invasive, targeted approach
Whether you have termites today or would like to prevent the same from stimulating future damage, we have a plan that's best for you. We have been keeping homes and businesses termite-free for over a decade through expert, professional, and trained technicians.
Protect your home or business by choosing the best exterminator in Pleasanton, California.
HiTech Termite has a professional team with expertise in the field of termite elimination. For all your termite-related needs, give us a call or contact us to see why we are your termite specialists! Please contact us if you need termite control solutions.